ServerAdminBlog was founded in 2008 but the first post was in March 2009. The main goal was saving tips & tricks, snippets of code and other useful advices I work with. Occasionally I may post my thoughts on certain things but my goal is to always keep it related to technology or system administration. Hopefully I've saved you some time by posting this information.
Technical Support
In case you need technical support, please keep in mind that I'm very busy and I can't be your personal support person for free. In case you want commercial support for MySQL, Linux, FreeRadius, etc please contact me.
Advertising
In case you want to support my work, please contact me.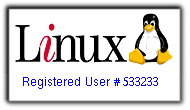 Feel free to use any information or code on this site, for absolutely any purpose but keep in mind that I'm not responsible for any damage, hardware failure or other problems you may have.
However, if you do find the information or code useful, I would appreciate a link back to this blog or at least one email with support for my work :).
Best regards